Each year the Manchester Road Race publishes a special Souvenir Program Magazine chock full of Road Race news, facts, and information. Plan now to play an important part in this year's Manchester Thanksgiving Day Road Race by reserving space for your advertisement in our Souvenir Program Magazine. Your advertising will be seen by an estimated 30,000 area residents. Plus, many Race participants and spectators will browse this important keepsake again and again in the months to come.

Advertising in the Program Magazine couldn't be simpler. Just choose the size ad you want and reserve your space. We'll be in touch to pick up your camera-ready artwork--or we'll put the ad together for you to your specifications subject to your final approval.

A great event. A great audience. A great cause. You won't find a better advertising investment this year than the Manchester Road Race Souvenir Program. So don't delay. Time is short, space is limited, and we don't want you to be left out. Email RoadRaceProgram@aol.com today!

The Publication: A 28-page (or larger) 8 1/2 x 11" magazine-style souvenir program with full color cover printed on glossy magazine stock.

Distribution: A minimum of 15,000 copies will be printed and distributed between mid-November and early December at no charge to Road Race participants, spectators, sponsors, and friends. In addition to race day distribution, copies will be available free-of-charge at news-stands and other retail outlets throughout the greater Manchester area. Previous year's souvenir programs are now considered collector's items.

Readership: Based on Simmons media research on this category of publications, we are estimating a total readership of over 30,000!

Editorial Content: Professionally written articles about every aspect of the Manchester Road Race--past and present. History, results and highlights, Race Week events schedule, runners to watch, course
description, a look at the how the Race is organized and where the money goes, and articles on area runners.

Charitable Affiliation: The net proceeds from the Annual Souvenir Program will benefit Muscular Dystrophy research in Connecticut and many other local charities. Over $100,000 has been raised in previous years!

Advertising Rates: Run-of-book black and white ads are available in a variety of sizes from full page to 2 1/2" sponsor squares with costs ranging from $95 to $1,795. MRR Sponsors and past Program
advertisers receive a discount off published rates.

Please click here for our current Program Advertising rate sheet.

Please click the picture below to see a copy of a recent Program.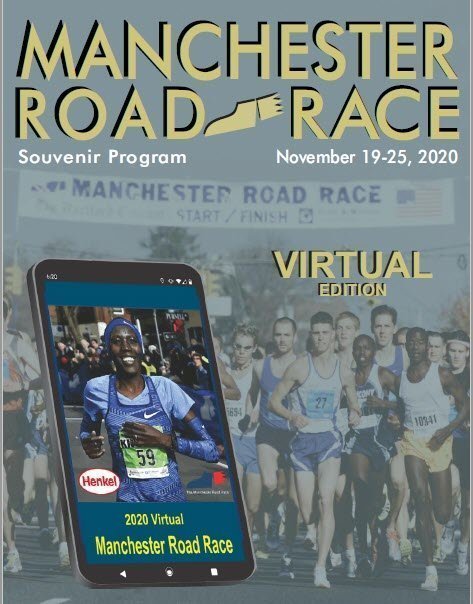 Souvenir Advertising